Easily regain your disk space with SpaceSniffer

Life is all about learning
Its not just your smartphone who gives you errors about your disk space. You may have came across memory issues on your laptop or desktop running Windows operating system. Its been always hard to find which files are using your disk space. Here comes SpaceSniffer. A freeware disk analyzer, which shows you what's eating your space how much.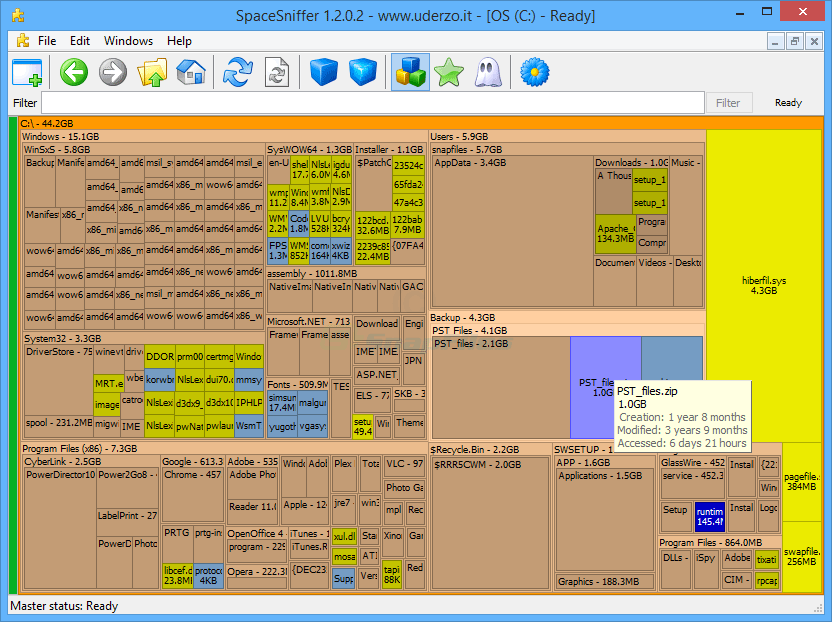 It is really handy when you want to do some quick cleaning or maintenance on your windows partition or just deleting those large video files.
You will see blocks after you select the drive you want to scan. Its really simple to understand. The bigger the block, the larger it is in size. Single click to see more details and double click to zoom into it.
You can perform actions directly from tool. Just right click on the file or folder shown and take an action.
You can directly filter files from the filter option. Like for all the images *.jpg will filter all the jpg image files. This will help you filter files by file types.
You can mark the blocks/folders/files by holding down Ctrl key and pressing 1, 2, 3 or 4. Four colors are available. Red, yellow, green and blue. Mark it while exploring and you can filter them with :red, :yellow, :green and :blue.
You can also filter the content based on date and size. Like for files older than 2 year, >2years will do the work for you. And for size greater than 1 MB, >1mb do the work.
You can also combine multiple filters using ;. For example: *.jpg;>2years;>4mb.
One more benefit is, it is portable. So you can carry it in your portable drive (USB stick) and directly run it without installing.
It will save a lot of time finding and deleting unnecessary files on your disk. Give it a try, you will love it!
Here is the official product page of SpaceSniffer: SpaceSniffer
Download Link: Space Sniffer
Image Source: Snap Files